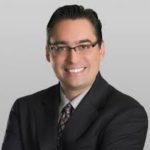 When Thomson Reuters told me about how a Contract Express client, the Nevada law firm McDonald Carano, has gone about automating contracts, I volunteered to write about it—case studies make a nice change from free-floating speculation. So here's my Q&A with Rob Sawyer, IT director at McDonald Carano. (That's him in the photo to the right.)
Ken:      Hi Rob. Please tell me a bit about yourself. And out of curiosity, what makes for a good law-firm IT director?
Rob:      Hi Ken. I've been a computer geek since I got my first PC when I was eight, and I've been in the IT profession for almost 20 years now, working exclusively in the legal industry. As IT Director for McDonald Carano for the last 14 years, I manage our technology initiatives and budgets, and I create or advise on technology policies and best practices. As part of that, I oversee our automation initiatives. I believe a good law-firm IT Director takes the time to understand, to an extent, the various practices the firm handles, and how the lawyers and support staff approach those practices, in order to come up with targeted solutions for each group.
Ken:      And tell me about McDonald Carano and, in general terms, how it's positioning itself to compete effectively.
Rob:      To stay competitive, we often avoid looking at regional firms our size for inspiration, and rather we look at larger firms from more consequential markets. We don't want to be on the bleeding edge, necessarily, but we do want to embrace newer software and technologies that make us more productive and able to compete at a larger scale, such as predictive coding and automation.
Ken:      What made you investigate using automation to create documents?
Rob:      The attraction of automation for creating documents has long been obvious, so it's not as if we needed some sort of crystal ball. We noticed that the lawyers in our trust practice didn't have a consistent drafting style and tended to use different set of documents for the same kind of matters. That's inefficient, and it can lead to confusion.
Ken:      What prompted you to actually do something about it?
Rob:      We acquired another firm with its own estate planning templates, so that added to the complexity and inconsistency. Copying and pasting to merge the different document packages led to issues with numbering, styles, pagination, and document corruption, not to mention inconsistent wording. Our lawyers were spending too much time word-processing and proofing documents.
Ken:      Why did you choose Contract Express?
Rob:      We were eager to fix this problem quickly, but we were nervous about some products out there, notably HotDocs. We looked at HotDocs many times over the course of 15 years, but we were always made nervous by how complicated it seemed. We would have had to either dedicate more IT resources to implementing HotDocs or pay hourly for programmers to automate each template—a process that might require 50 to 100 hours of work for each major document.
We learned about Contract Express after Thomson Reuters acquired it. I asked for a demo and saw how you can automate a template in 15 minutes by working in Word. It seemed like something lawyers and paralegals could handle, instead of having to rely on programmers.
We signed up for a trial, and after about half an hour of training we attempted to automate something really complicated—a married-trust template package. We knew that if Contract Express could handle that, it could handle anything. It contained as many as 15 documents. It ultimately took several months to automate all those documents, but that was because of substantive complexity, not the technology. Simple documents that took two to three hours to automate using HotDocs took only minutes with Contract Express.
Ken:      What functions of Contract Express did you find particularly appealing?
Rob:      We really liked how you could use a single questionnaire to create a group of documents. That spares you having to do documents one at a time, finding and replacing all the names as you go. And we liked how answering one question could result in all sorts of clauses being inserted throughout the package.
Ken:      How did your rollout of Contract Express go?
Rob:      We demoed Contract Express for our estate planning attorneys and got their feedback on which templates to automate first. We followed up with one-on-one training sessions, and we had a couple of key attorneys champion Contract Express throughout the firm. For a technology initiative to work, it has to save time or improve quality, ideally both, and sharing success stories is key. Those attorneys who used our Contract Express template to assemble a trust package reported how much quicker it was compared to doing it the old-fashioned way.
Ken:      What is it about estate-planning documents that's conducive to automation? I know that one of the earliest automated-drafting products focused on trusts and estates.
Rob:      It's probably because the work tends to be both price sensitive—your clients are mostly individuals—and complex. A single estate-planning document set could produce over a dozen documents and nearly 100 pages of content.
Ken:      Automating documents forces you to examine closely what they say and how they say it. Have you found that automating your estate-planning documents resulted in your revising them? I confess that all estate-planning documents that lawyers have prepare for me as a client have been pretty much unreadable.
Rob:      Yes, in a way. The initiative to automate these documents and roll out Contract Express forced us to consolidate the many different drafting styles and standardize to one new style. We didn't want to program five different estate-planning document sets for five different styles. It's still a work in progress, but standardization is something we've wanted to do for a long time, and this new software roll-out gave us an excuse to move forward with it.
Ken:      Do you plan on expanding your use of Contract Express into other practice groups?
Rob:      We hope to expand into corporate law and other practice groups. Whether it makes sense requires considering deal volume, deal value, and whether you need a meaningful amount of customization. We think it would also make sense to automate certain litigation documents, particularly in workers' compensation and employment law.
We're also exploring allowing current and potential clients to use some of our Contract Express templates. That makes sense if we can offer them a straightforward questionnaire and keep all the complexity under the hood, in the form of how the template responds to answers given when a customer completes a questionnaire. Having customers complete a questionnaire saves us time, and it saves the client time and money.
Ken:      Do you have any suggestions for law firms planning to implement document automation?
Rob:      Sure. Train some legal assistants and IT staff so they can help on projects. Contract Express is intuitive enough that non-tech-savvy staff members can program templates and questionnaires, but some projects might require IT expertise.
Ken:      Yes—most of what Contract Express does is straightforward, but it can do some amazingly intricate stuff, if you need it.
Rob:      And start by identifying the top 10 documents you want to automate—documents that will give you the most bang for the buck. Let one person handle the automation, then have several people perform quality control and provide feedback before rolling them out to the firm.
Ken:      So what has been the impact, overall.
Rob:      We're providing better service to our clients. They don't want us reinventing the wheel every time we take on a new project. We owe it to them to explore using technology to make us more productive and efficient. With Contract Express, we've achieved that.
Ken:      Thank you, Rob.
Rob:      My pleasure!