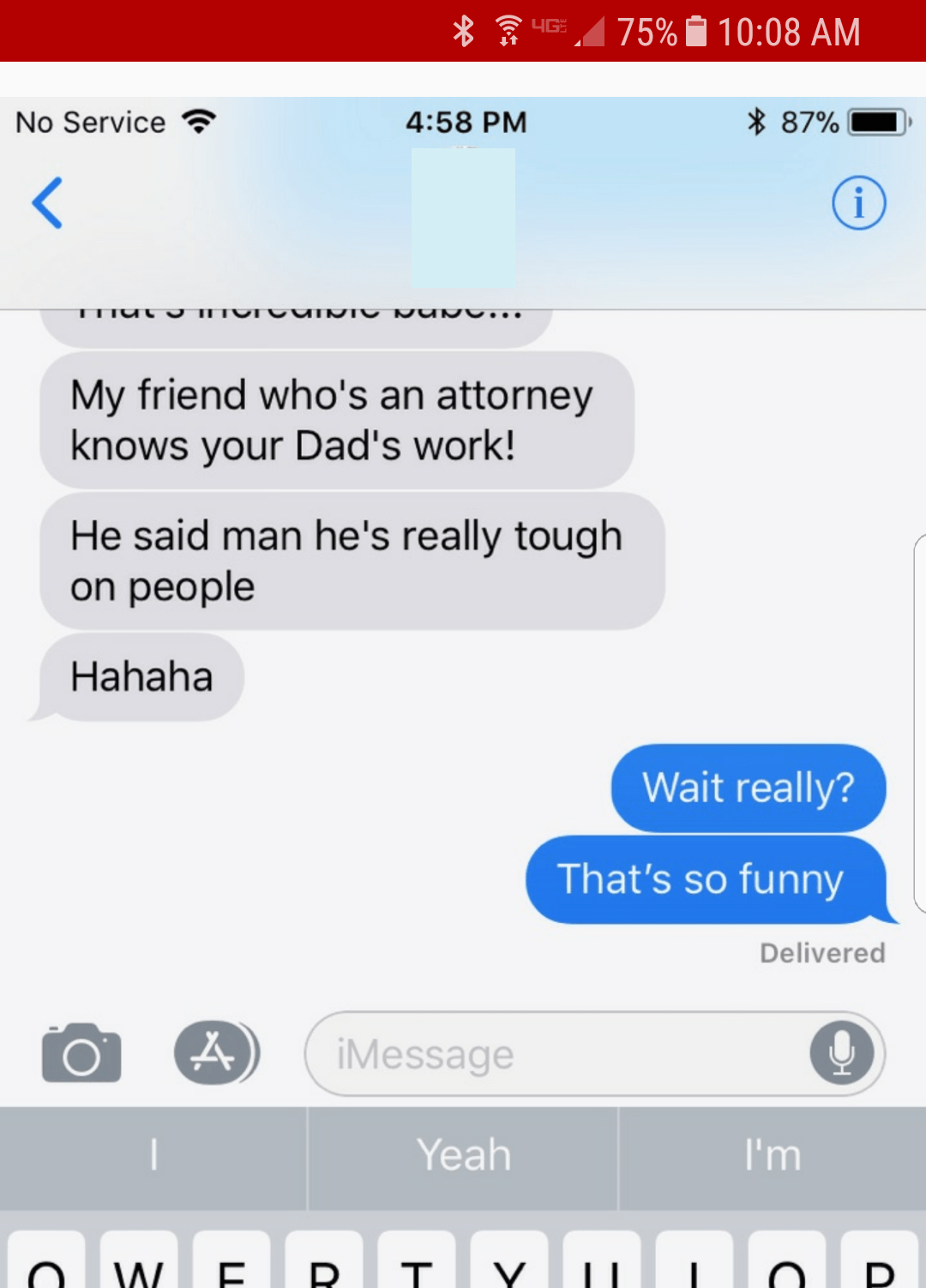 Above is a screenshot my daughter sent me a few days ago, showing texts she exchanged with a friend. "Hahaha" indeed.
I thought of it on reading Casey Flaherty's post touching on my work (here). Casey accurately summarizes my, uh, lack of restraint.
I know some people wonder why I'm so in-your-face. A commentator on litigation writing once earnestly advised me to be more easygoing. "Don't tell people they're wrong! Instead say, 'That's great, but have you considered doing it this way instead?'"
Two factors underlie my approach.
First, contract language is different. It's more limited and stylized than litigation writing, and more hinges on nuances of wording. If you're inartful in how you word a sentence in a brief, any adverse consequences are likely to be modest. By contrast, an awkward choice in contract language and the result might just blow the deal. Or lead to years of litigation. Or both. So pussyfooting around dysfunction in contract language does no one any favors.
And second, if you want to effect change in a field as precedent-driven as contract drafting, it does no good to murmur deferentially in someone's ear: you'll be ignored. That's why I tout my wares in the marketplace of ideas from atop the biggest soapbox I can find, and why I speak as plainly as I can. I have yet to encounter someone who has said, "We would have hired you to give us a seminar or rewrite our templates, but you're too darn abrasive!" And if someone actually feels that way, they're fooling themselves: if they're distressed by my candor, they'd likely fall into a dead faint when faced with the messy change required to retool their contracts.
The nature of my plain-speaking depends on what provokes it. Usually when I critique a contract drafted by a big law firm or a global company, I'm clinical in demonstrating that the emperor is lacking some clothes. I figure that the emperor isn't going to lose sleep over what I have to say, although a few times I've attempted to contact a company before publishing my analysis of one of their contracts.
If a company goes out of its way to claim that its suboptimal drafting is something to be emulated, or if a prominent commentor says something stoopid, a stiffer response is in order. And if you publicly denigrate my work, I give myself free reign to set things straight.
But in all this, I try not to be a jerk.